In the coming update, we are going to release a new system——Fragment System, alongside its Store. Before the introduction, let us answer a question you may be concerned about" what kind of benefits will the Fragment System bring to me?"
Firstly, the Fragment System brought a method for players to get skins for free (via events)! Also, it's good news for skin collectors. Fragment System will let players make up the missing parts for incomplete chess skin sets. Lastly, for the chess pieces that have been removed temporarily, their skins will be converted into Fine Jigsaw that can be used to purchase other skins.
Let's get straight to the topic, and start the Fragment System introduction now!
I.Fragments Categories
1.There are 3 kinds of fragments in store: Chessboard Fragment, Chess Player Fragment, and Chess Skin Fragment.



Fragments can be used to purchase the corresponding types of chessboards/chess player/chess skin in the Store. The required quantity will vary according to the quality of the skin.
2.There are 4 kinds of Fine Jigsaw: Blue, Purple, Orange, and Red (base on the Quality)




When a chess piece getting removed temporarily, players can choose whether to convert the owned skins to the Fine Jigsaw. Fine Jigsaw can be used to purchase chess skins with the same quality in the Store. This process is irreversible, if you convert a skin to Fine Jigsaw, you can't convert it back to the skin.
*Note: In the coming Workshop game mode "Personal Designer", players will be able to use the removed chess pieces and their owned chess skins normally.
II. How to obtain and spend the Fragments
Obtain: Chess Pass, Specified Events, Specified Packs or Chests; skins of removed chess pieces can be converted into Fine Jigsaw.
Spend: Purchase chessboard, chess player, and chess skin in Fragment Store. All chess skins must be purchased in sets, and cannot buy 1-star or 2-star separately.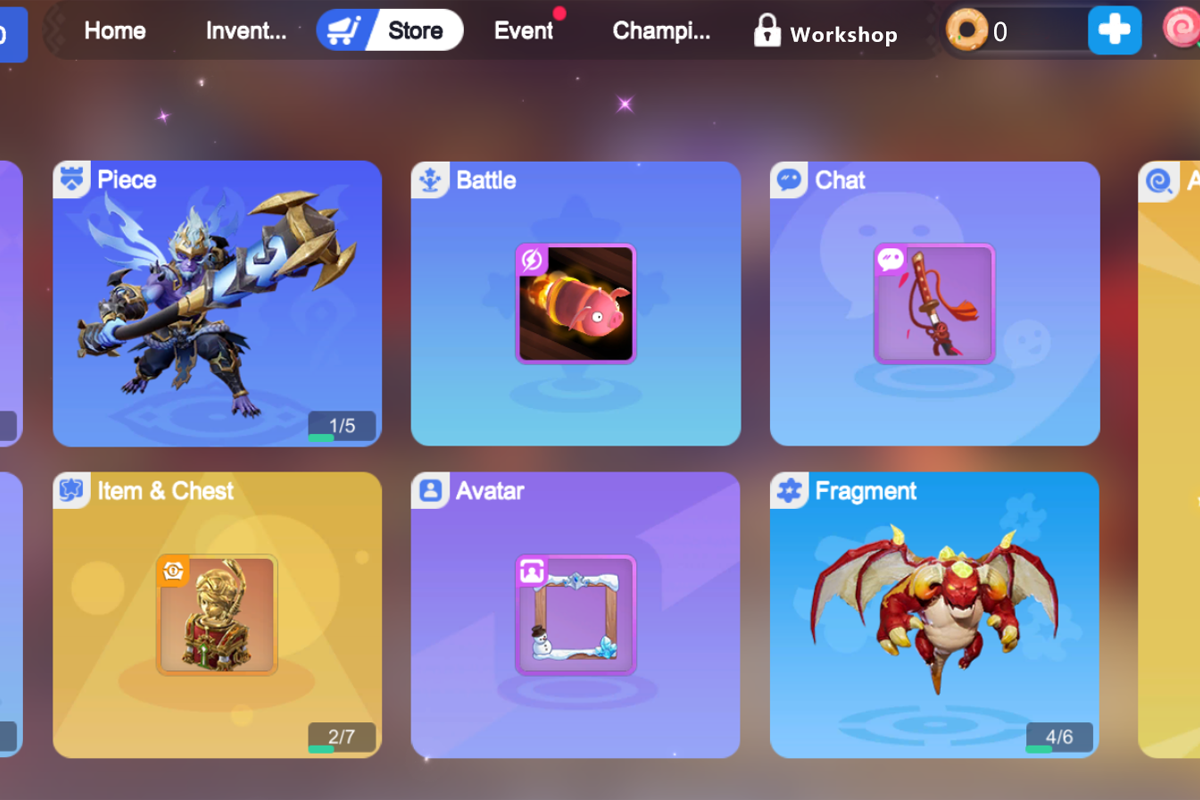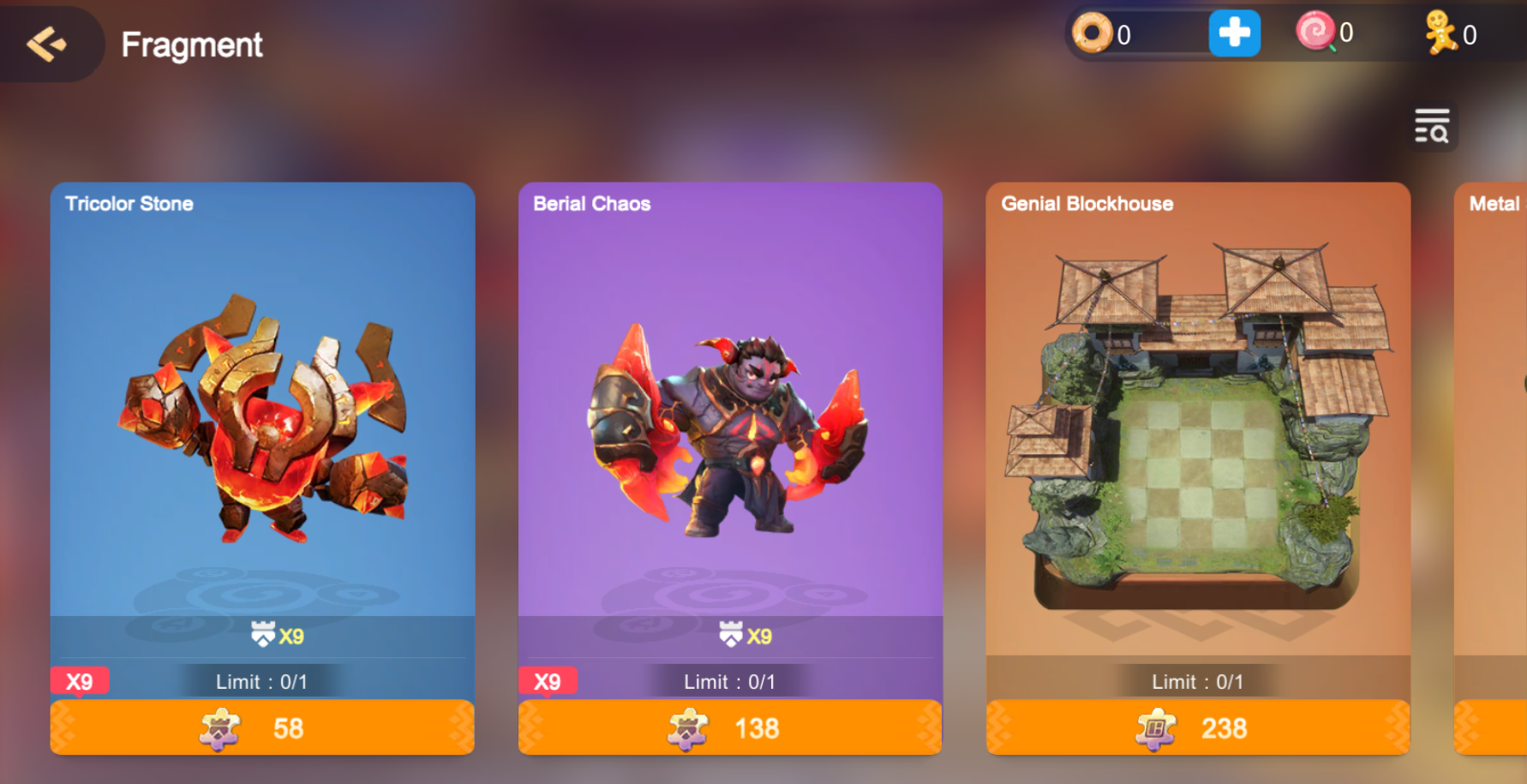 III. Answers you may be concerned about
Q: Will the skins purchased by fragments keep their value?
A: We set the value of fragments depending on the different qualities of chess skins. This will ensure the Fragment system not impacting our current value system.
Q: Can the skins be converted into Fragments?
A: Fragments can be obtained via Chess Pass, specified events, specified gift packs, or chests, and cannot be converted from skins. Additionally, you can't use in-game currencies to buy fragments directly. On the contrary, Fragments and Fine Jigsaw can't be sold into in-game currencies, too.
Q: Is Fragment Store the only way to consume Fragments? When will it be updated and what kinds of skins will be available?
A: Yes, Fragments and Fine Jigsaw can only purchase items in the Fragment Store.
We will update the skins in store every season to make sure there will be various kinds and qualities of chess skins to purchase in different seasons. Also, skins with Epic quality or higher released recently will not be available in Fragment Store. Please looking forward to our rotations.
Q: If I don't have enough fragments/ Fine Jigsaws for a set of skin, can I just buy the 1-star or 2-star skin?
A: Sorry, you can't buy a set of skins separately. If you don't have enough fragments to buy:
Case 1: You don't have enough Fragments for a chess skin, then you just need to collect more;
Case 2:You don't have enough Fine Jigsaw for a chess skin, you can use Fragments to make up the difference.
Q: If I have some skin pieces now, what will happen?
A: Case 1: If the chess piece is not removed
E.g. Ultra 2049 of Heaven Bomber. The pieces have 1(1-star), 2(2-star), and 6(3-star) three tiers, if you have 4 pieces, 3 of them will be combined to the 1-star and 2-star skin. The rest is not enough for a 3-star skin. You can keep them, and there will be more ways for players to gather them all. Or, you can use the corresponding number of Fragments to complete it.
*Note: if you still have skin pieces after complete a 3-star chess skin, you can sell them for Cookies.
Case2:The chess piece has been removed.
E.g. Shining Dragon [Red]. The skin pieces will be converted into the Fine Jigsaw.
Above is the introduction of Fragment. Please leave your comment or questions about this. Tomorrow. we will reveal more content about the new version. Stay tuned!