Auto Chess has won Google's 2019 Best Innovative Game Award in 17 countries and regions
The Google Play Best of 2019 Award winners have finally been announced! We are very honored to have received the Google Play 2019 Best Innovative Game Award in 17 different regions (including the United States, Canada, Australia, Southeast Asia, and South Korea) and have been shortlisted the Google Play Best Game Award of 2019 in South Korea.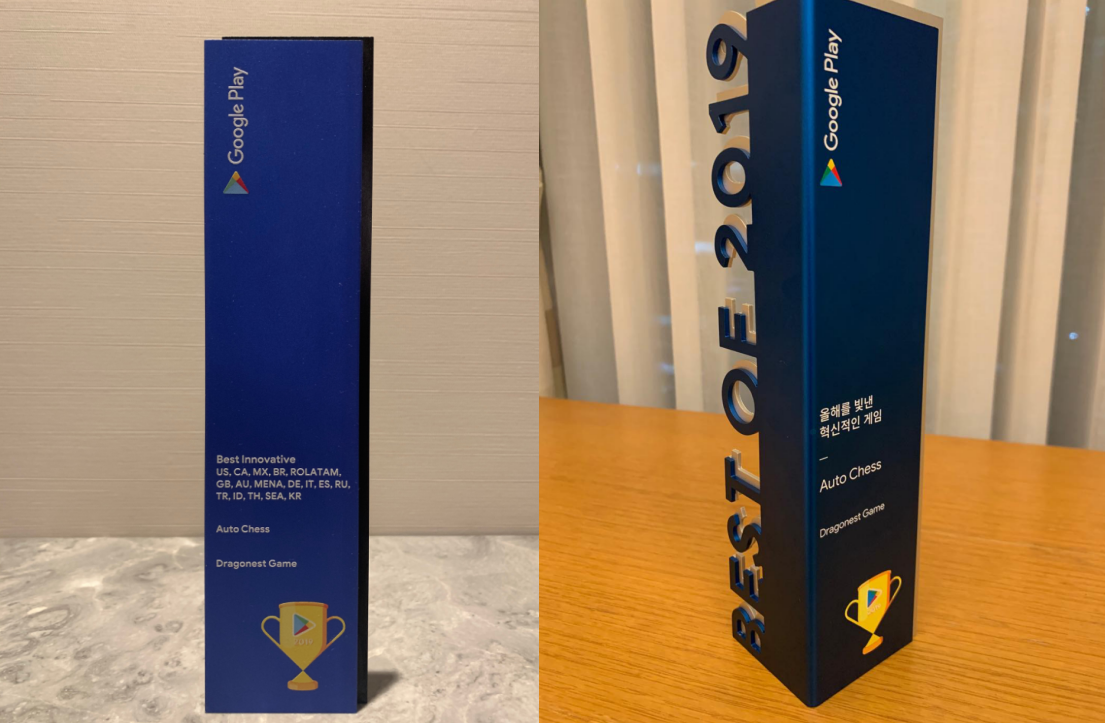 When we found out that we had been nominated as a candidate for the Google Play 2019 Game Awards, our hearts were full of excitement and emotion. We were super excited to be shortlisted for this global and authoritative award, and have our achievements recognized by the public.
As everyone knows, Auto Chess is an entirely new genre that was created at the beginning of 2019. As a novel genre, we had to set the framework ourselves. This experience can be described by the proverb, "crossing the river by feeling the stones." We didn't have any predecessors to follow, so we had to figure everything out as we went. This is why we feel very honored to have been acknowledged as the Most Innovative Game. This not only inspires the entire development team, but also allows us to see Auto Chess' great potential.
When we decided to make this game, we recognized the several challenges that might be faced. Would this new gameplay be accepted by the public? How can we take a popular game mod from the PC and perfectly adapt it onto the mobile platform? We have put our best efforts into overcoming these challenges.
Drodo Auto Chess, The Father of the Autobattler genre, was officially released in April 2019. Since its global launch, it has been enjoyed by nearly 100 million players. In addition to occupying the Chinese mainland market, user groups are spread all over the world. Being recognized as an innovator was undoubtedly a high praise and affirmation for us and the game of Auto Chess.
But at the same time, we have also felt some doubt: how do we make a new game genre into an enduring classic? How do we create game content and retain users while maintaining a good reputation? At this stage we have made some changes, like adding the Duo mode, and optimizing the server quality. In the next version update, we will also bring some new gameplay and new art, hoping to bring you a new experience.
We have always dreamed of making a great game, a high-quality and fun game that can be recognized by the public. We have worked hard in order to make these dreams come true. We know that there are still some flaws with Auto Chess, but we strongly believe that we can always use our passion and diligence to continue making the game better and better.
We are thankful to the Google Play Store, but we are most thankful to the players who have supported us to this day. You, dearest player, are our motivation to keep going. Thank you for being with us regardless of our shortcomings, and encouraging us while we improve the game. It can also be said that without your support, the Auto Chess genre as a whole would not be as popular as it is today.
Thank you for your support and affirmation. This is a big step for Drodo Auto Chess and a big step for the entire Auto Chess genre.
There are more moments of glory that await us in the future.