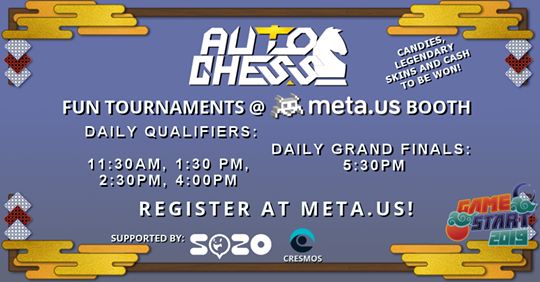 Book your spot for our Fun Tournaments at Gamestart 2019 Singapore today! On both days of Gamestart 2019, you'll be able to take part in our Auto Chess Fun Tournament and win some awesome prizes including cash, candies and legendary skins!
Register on meta.us at any of the qualifying timeslots and visit our booth at Gamestart 2019 to play the Auto Chess games with us! Create your meta.us account and find your timeslot at: https://www.meta.us/search/competition
There will be 4 daily qualifiers, where the top 2 will qualify for the grand final! The 8 players will then play for the following prizes proudly sponsored by meta.us and Auto Chess:
1st: $50, Northern Winter Charms x1 + 10,000 candy
2nd: $30, Punk Gal x1 + 10,000 candy
3rd: $25, Senior Chess Pass (S3) + 10,000 candy
4th: $25, 8000 candy
5th: $20, 6000 candy
6th: $20, 5000 candy
7th: $20, 4000 candy
8th: $20, 3000 candy
Every qualifier player will win a meta.us pin for participating and the top 3 will get meta.us shirts! We'll also be having giveaways for meta.us shirts and pins as well – simply register for meta.us at Gamestart 2019 to participate!